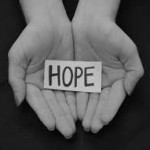 When people are in pain, when people suffer from terrible injuries or disease, the quicksands of despair can pull them under. Too often people can't imagine ever feeling well again. My job as a physician, and my personal job as the spouse of someone with seemingly endless head injuries, is to create the space for hope.
Hope is a critical ingredient in healing. Without hope our bodies tighten into worse pathology. Our bodies harden into stagnation. The absence of hope paralyzes people. They don't take the necessary steps toward healing.
When we see our loved one sinking into the morass of despair, it's easy to also be sucked under. But when they forget their good days and cannot conceive of a future, we must maintain the memories of past joys as well as the hope for many more.
As the spouse of an athletic, active person who has endured endless concussions, I am in that role at home. I admire her ability to work hard for each improvement. But that's not enough. I also have to hold the hope for her recovery when the quicksands pull her under. I have to remain steady and patient even when I too become scared that there has just been one blow too many. My job is to remember my spouse's remarkable healing ability. I have to notice that slowly the good days are starting to outnumber the bad. I have to relentlessly hold the hope and by that create more room for healing. I have to find the strength for both of us.
Being an osteopathic physician helps me hold the space for hope. In my over 30 hears of practice I have seen countless seeming miracles occur when osteopathic medicine, homeopathy, oriental medicine are coupled with the body's remarkable ability to heal. With all of these, my partner has recovered from terrible blows. So can other people. But essential to recovery is the patient steadfastness of practitioners and caregivers who courageously create the space for hope. Hope has been an essential ingredient for recovery in the many of the thousands of other people I've treated who have gotten well after a serious injury or illness.
My medical practice has ingrained in me the habit of hope. Hope can become a habit for everyone. To help patients and caretakers develop this habit is one of the reasons I wrote Healing Pain and Injury. I want to help not only the people who are suffering, but to lend a hand to the rest of us. To help the caregivers learn to hold hope in their hearts. As we do, we help our beloveds heal and holding hope helps us heal in deep ways as well.